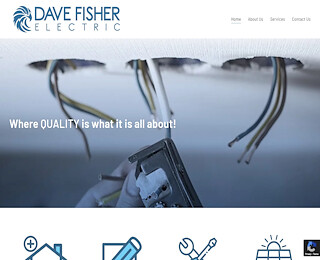 An electrician in Grand Junction should be able to offer a wide range of services, not just repairs and installation. Dave Fisher Electric, Inc. can offer new construction, remodeling, electrical maintenance, and even solar solutions for residential and commercial properties. You can get a free estimate by calling us at 970-242-4012 or filling up our online form.
More and more people are now going green to save the earth—and also to save some money. Manufacturers are making solar panels more affordable to the public. If you need solar panel hookups, just contact an electrician in Grand Junction. Here are just some of the many benefits of going green:
•
Energy reliability - The sun rises and sets consistently, making it a reliable energy source. You don't have to suffer like everyone else when a blackout is scheduled.
•
Energy independence - No matter where you live, you can enjoy the comforts of electricity, thanks to solar power. You don't have to worry about electric companies saying they don't have any resources at your location.
•
Energy security - No one can purchase the sun and monopolize it. Take advantage of the sun's rays, free of charge.
To make sure that your investment in solar energy does not go to waste, hire an electrician in Grand Junction to professionally install a solar power system in your home. Dave Fisher Electric, Inc. has been wiring up homes and business for many years. We are familiar with traditional electrical wiring, and of course, the latest solar energy technologies. Give us a call at 970-242-4012 if you need to get an estimate for the solar energy hookup. Be sure to browse our site to see what other services Dave Fisher Electric, Inc. can deliver.
Electrician Grand Junction
Related Posts
Dave Fisher Electric, Inc. has the best Grand Junction electricians. We have been serving the area for more than 20 years. Our service is very reliable and we can offer everything from installation to maintenance. If you are interested in going for a green initiative, we can also talk to you about solar energy solutions. Visit our website for more information.
Are you looking for electrical contractors in Grand Junction? Contact Dave Fisher Electric, Inc. Our company has been in the industry for years and has served commercial and residential areas in Grand Junction. To get a free estimate, just call 970-242-4012. You may also visit our website to know more about us and our services.
We welcome your comments!